Our goal is to maximize the production of your business in a natural and ecological way, without chemical products, and increasing the performance of your water.
NAECOER SL (Ecological Nanobubbles of Europe SL) is a recently created young company that bases its business projection on its own patent for the generation of Nanobubbles for Industrial, agricultural, food, water treatment, etc. use.
NAECOER is a company formed by a multidisciplinary team to cover the different business areas from engineering to R+D+i developments in the wide and extensive field of applications referred to, high commercial capacity with extensive experience in different business areas, deep knowledge of foreign/internal markets for the supply of materials and/or development capacity upon request, as well as experience in accounting and administrative management backed by significant business activity.
Naecoer has its own patent capable of generating non-bubbles, which, due to their size and structure, have different properties that make them particularly effective for improving water quality, improving water treatment processes and improving productivity in industrial and agricultural applications. . The basic principle is to inject a gas into an aqueous fluid, obtaining millions of nanobubbles from it, which, in addition to remaining stable without bubbling, maintain high gas concentrations.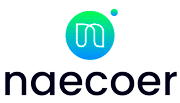 Cutting-edge green technology available to everyone
NAECOER is a Spanish company that has developed a unique patent in Europe, which through green technologies and innovation has brought to the market a solution to improve the performance of your resources through Nanobubbles.
We increase the yields of your products with state-of-the-art technology, providing more efficient oxygenation and maximizing the profitability of your production. The Nanobubbles provide an effective treatment of oxygenation, without added chemical products, contributing consciously to the environment.

We have a pioneering patented technology in Europe. We have spent years investing in R+D+I to develop this patented technology that makes us a unique solution in our country.

We would like you to know first-hand the projects with which we are already collaborating. Our clients are and will always be our best publicity.
We are a tool for a healthier world
Among others, we increase the concentration of oxygen